Replacing Brake Pads Can Save Rotors!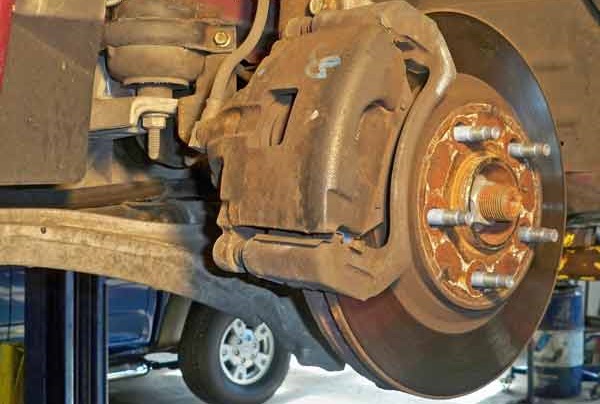 Brake service is important to your safety and letting them go can make the repair much more expensive. This is because replacing brake pads is less expensive than replacing your brake rotors too.
T & J Tire and Auto can help you with various types of brake pads to fit your needs and driving. Pads can be Semi-Metallic, Non-Asbestos Organic, Low-Metallic NAO or Ceramic. We can turn and grind the rotors or replace them if needed.
Brake Failure Is Dangerous!
Brake failure due to wear on the pads and rotors happens slowly but brake failure from a broken brake line can be sudden and dangerous. If your vehicle is older, rust on the lines can cause a failure that is sudden. We will be happy to inspect your brake lines.
Our auto repair shop is conveniently located in Anderson Indiana at the corner of 9th Street and Jackson. Whether you need pads, calipers or rotors, we can service you brakes and flush the brake fluid for you if that is needed. If you are at Anderson University or downtown Anderson or at St. Johns Hospital and need auto or light truck brake work, we are close to you! Give us a call and we'll get you set up for our quality brake work at a competitive prices.
Our Products & Services
Tires
Computer balancing
Tire repair
Wheel Alignment
Engine diagnosis
Engine repair
Emission system testing & repair
Alternator testing & replacement
Auto Electrical problems
Charging system
Spark plugs
Batteries

Distributors
Oil changes
Oil pan repairs
Chassis repairs
Front end repairs
Struts & shocks
Fuel delivery/supply system repairs
Fuel pumps
Transmission fluid service
Differential service
Brake line service
Brake shoes & drums

ABS brake speed sensors
Hub assemblies
Wheel cyclinders
Climate controls A/C, heater, thermostat
Radiators
Water pumps
Intake gaskets
Timing chain/belt replacement
Complete engine overhaul
classic car repair