Tires: T & J Tire Offers The Top Tire Brands
We carry these top brands: Bridgestone-Firestone, MasterCraft, Fuzion, and Goodyear. We can special order just about any brand or size of tire you might need. We can handle specialty tire needs for "Hot Rods", "Classics" and "Muscle Cars".

We not only source these tires for you at a competitive price but we have the special equipment and experience needed to properly mount aluminum and custom wheels. We can handle rims up to 20".

You may add Road Hazard Warranty coverage to any tire purchase giving you peace of mind and protection from the cost of replacing a tire. Please ask us about this and we will be glad to discuss the benefits, terms and costs so that you can decide if a Road Hazard Warranty is right for you.
Trailer, ATV, Farm & Lawn Equipment Tires
We carry tires for many types of vehicles other than cars and trucks. We carry Goodyear and Carlisle trailer tires. We also carry Carlisle tires for ATV's, farm equipment as well as lawn and garden equipment.

Check Your Tires
You should check your car or truck's tires for wear and correct air pressure (based on your driving and manufacturer's recommendations). To check tread wear you can put a penny in the tire tread and if you can see the top of Lincoln's head your tread is too worn.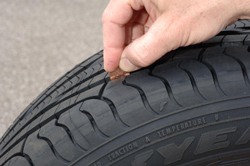 The distance from the edge of the penny to Lincoln's head is 2/32 of an inch. New tires normally have 11/32 of an inch.
TPMS: Tire Pressure Monitoring System
Is your TPMS light light on? We have the specialty tools to reset, reprogram the system. We can handle all issues related to the TPMS such as diagnose issues, replace stem, reprogram, reset, re-learn.
If you have any doubts about the safety of your tires, please stop by to have us take a look for you. We can measure the remaining tread with a precise tool and help you make the right choice.
Appointment request form
Please let us know the issues you are having or the type of service your vehicle is needing. We will contact you back to schedule and confirm your appointment.
---
Please contact us with this form: