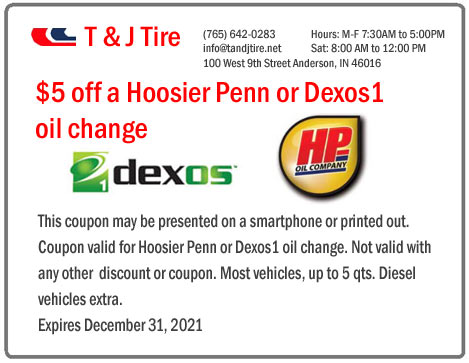 We use both Hoosier Penn and dexos1 approved premium motor oils. Hoosier Penn and GM dexos1 approved oils provide excellent engine protection and meet manufacturer requirements.

Premium Oil Change Discount Coupon
Click here for an Oil Change Coupon and save $5.00 on a standard oil change and lube. The coupon is for either of our premium motor oils from Hoosier Penn or other dexos1 approved oils.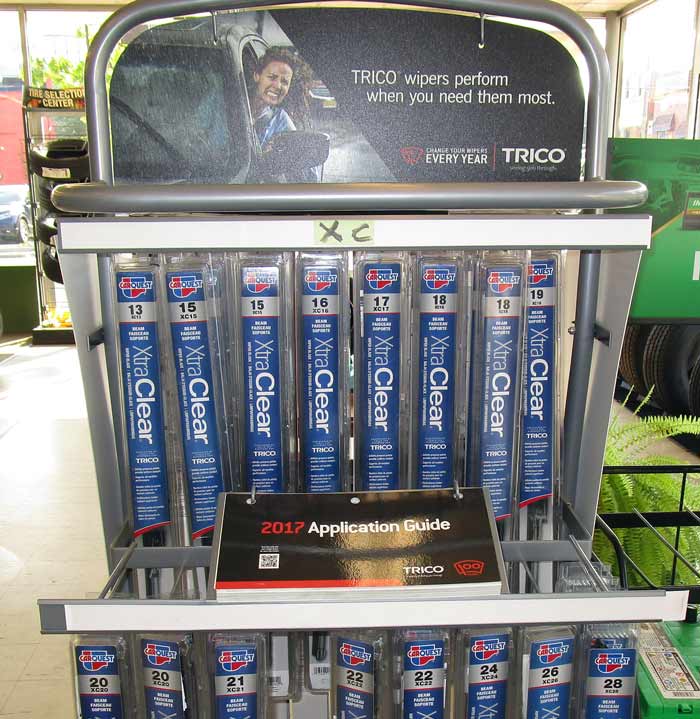 As with all of the services at T & J Tire we will perform even routine tasks like oil and filter change with attention to detail and in a professional way. We can also help take care of other routine auto service items like wiper blades and batteries.
You may wait in our comfortable customer waiting area where you can watch cable TV, read popular magazines (like Woman's Daily, PC World, Men's Journal, Rifleman, Street Rods etc.) or browse around the cars and many other historic and interesting items on display.
Our Products & Services
Tires
Computer balancing
Tire repair
Wheel Alignment
Engine diagnosis
Engine repair
Emission system testing & repair
Alternator testing & replacement
Auto Electrical problems
Charging system
Spark plugs
Batteries

Distributors
Oil changes
Oil pan repairs
Chassis repairs
Front end repairs
Struts & shocks
Fuel delivery/supply system repairs
Fuel pumps
Transmission fluid service
Differential service
Brake line service
Brake shoes & drums

ABS brake speed sensors
Hub assemblies
Wheel cyclinders
Climate controls A/C, heater, thermostat
Radiators
Water pumps
Intake gaskets
Timing chain/belt replacement
Complete engine overhaul
classic car repair