T& J Tire
T & J Tire and Auto Service offers you a choice of what to do while your car or truck is being repaired. We can shuttle you back to your Anderson work or home during the vehicle repair time or you may wait in our customer area. You may use our WIFI to stay connected to the office or other internet resources while waiting for service on your vehicle.
T & J Tire has a clean comfortable customer waiting area that offers you cable TV, plenty of seating and model car and historic items display you really should see!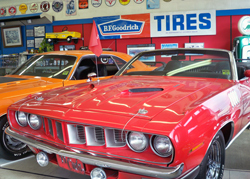 The two hot rods on display are a 1971 Plymouth Cuda and a 1970 Dodge Challenger RT. These two pieces of history are in show-car condition and should be seen to be appreciated.
Appointment request form
Please let us know the issues you are having or the type of service your vehicle is needing. We will contact you back to schedule and confirm your appointment.